Location
Here at the heart of the city, you and your staff can relish the famous diversity and vibrancy of Cologne, with its wealth of culture, leisure, pleasure and shopping.

An environment that looks after you
Or would you prefer to stroll along the banks of the River Rhine? All of this is possible. Most things here are within easy walking distance – a definite plus in terms of achieving your worklife balance.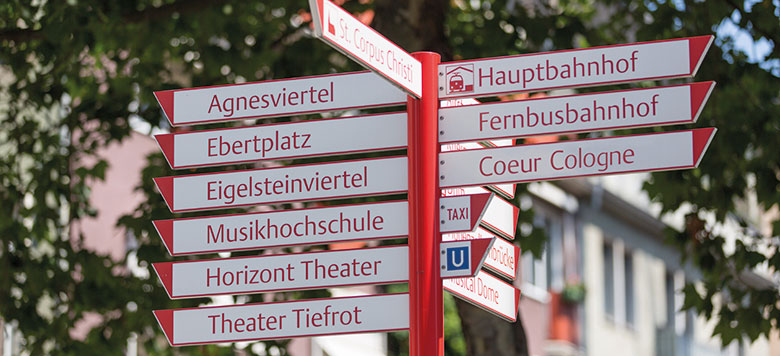 The Kunibertsviertel is just as colourful. Central, but away from the hustle and bustle of the big city - this tranquil and, at the same time, vibrant district is attracting an increasing number of companies and young people. Here, there is plenty of space to forge relationships and to be inspired – around the Romanesque Basilica of St. Kunibert, a vibrant economy, life and living combine perfectly.
Optimum mobility
Coeur Cologne is the ideal starting point from which to reach your destination quickly. Your office is located at the first port of call in Cologne: at the city's Central Station. The ICE platform is just a few minutes from your desk. Your proximity to one of Germany's busiest railway stations, used by more than 280,000 passengers per day, opens up the gateway to the world for you and our staff.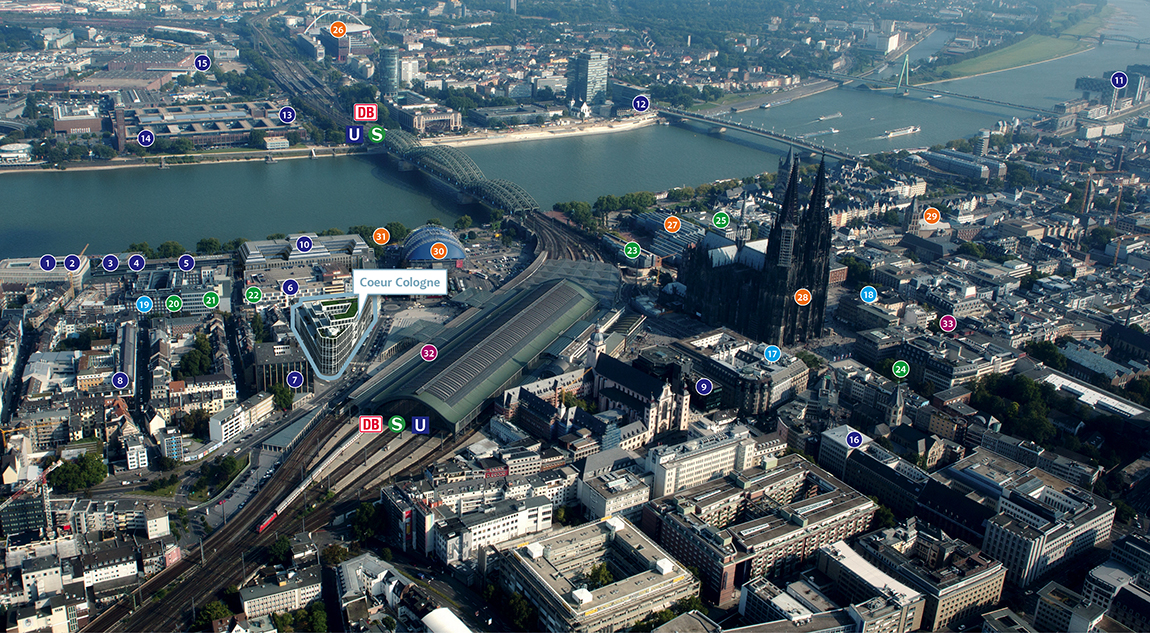 1 Oppenhoff & Partner solicitors
2 Institut der deutschen Wirtschaft Köln
3 PwC
4 BHF-Bank
5 Pilsner Urquell Deutschland
6 Sparda-Bank
7 RWZ Rhein-Main eG
8 REWE AG
9 Rolex Deutschland
10 EASA
11 Kranhäuser
12 maxCologne
13 HDI-Gerling
14 RTL
15 Trade fair
16 Banking District
17 Excelsior Hotel Ernst
18 Domhotel
19 Cologne Marriott Hotel
20 Plüsch Bar & Lounge
21 Brasserie Fou
22 Wein am Rhein
23 Alter Wartesaal
24 Café Reichard
25 Holtmann's Restaurant
26 Lanxess Area
27 Museum Ludwig
28 Cologne cathedral
29 Historic city hall
30 Musical Dome
31 Rheinufer-Promenade
32 Colonaden Hbf.
33 Hohe Strasse shopping precinct